Communication Disabilities Access Canada (CDAC) is a Canadian, disability, non-profit organization, with charitable status. CDAC promotes social justice, accessibility and inclusion for people who have speech, language and communication disabilities.
COVID-19 Communication Rights Toolkit
Patients with COVID-19 (coronavirus) who need communication tools and supports due to speech-related disabilities face greater risks of discrimination and isolation during this pandemic. For example, for safety reasons, your family members and others who help you communicate may not be allowed to join you in the hospital. You also may face other barriers to communicating your needs and desires while you are being treated.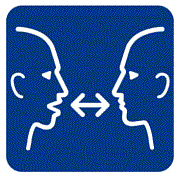 Communication Access Symbol
Developed by CDAC, the communication access symbol tells people that communication is a two-way, interactive process.  It is used to identify organizations that are communication friendly and accessible for people who have communication disabilities.
What We Do
We address social justice and accessibility for people who have communication disabilities due to cerebral palsy, autism spectrum disorder, Down Syndrome, learning disability, intellectual disability, traumatic brain injury, aphasia after a stroke, dementia, Amyotrophic Lateral Sclerosis (or ALS), Parkinson's disease, or Multiple Sclerosis. We do not address the needs of people who are Deaf, deafened or have a significant hearing loss and who require sign language interpreting services.
Through our funded projects, we consult on accessibility policy and wlegislation, conduct research, develop resources, hosts training and maintain a communication assistance database.
Our resources are used by people who have communication disabilities, family members, disability services, businesses and organizations, government agencies, healthcare professionals, police, legal and justice services, accessibility policy makers, legislators, and communication clinicians.
We do not provide clinical communication services. To find out about communication clinical services, please contact your provincial Speech-Language Pathologist and Audiology Association.